Main content starts here, tab to start navigating
Honey Cake
This Rosh Hashanah staple whips up quickly and is sure to please as a tea cake or light offering on the dessert table. It's the perfect start to a sweet New Year.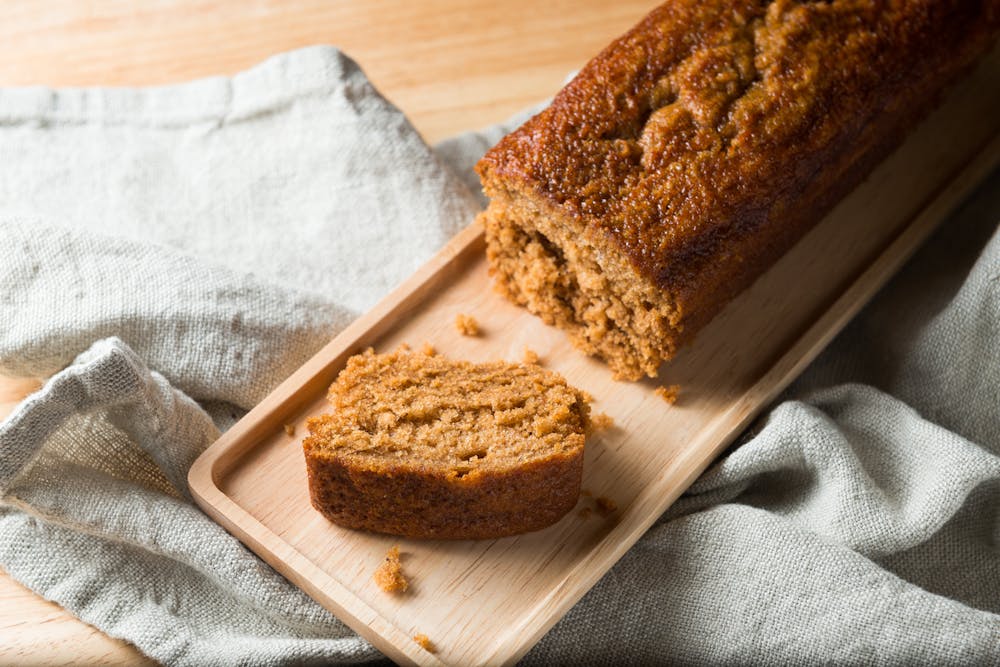 Ingredients
Makes 1 loaf cake (approx. 9 x 5")
2 eggs
80 grams (1/4 cup + 2 tbsp) sugar
75 grams (1/3 cup) vegetable oil
215 grams (2/3 cup) honey
180g (1 1/2 cups) all-purpose flour
1 1/4 tsp baking powder
1/2 tsp baking soda
3/4 tsp ginger
1/2 tsp cinnamon
1/4 tsp nutmeg
1/4 tsp cardamom
1/4 tsp clove
1/8 tsp salt
112 grams (1/2 cup) hot water
1 bag black tea, such as Earl Grey

Suggested Equipment
• loaf pan, approx. 9 x 5"
• mug or small heat-proof bowl
• two medium mixing bowls
• whisk
• skewer


Process
Measure out all ingredients and set aside.

For best results, we recommend using a kitchen scale to weigh ingredients

instead

of measuring

w

ith cups &

spoons.




Preheat the oven to 325F with a rack positioned in the center of the oven. Prepare a 9 x 5" loaf pan by coating the inside in a thin layer of oil or butter. Sprinkle with sugar, making sure to cover all sides. Tap out any excess.


Brew the tea in the hot water and steep 2-3 minutes (or whatever time recommended on tea bag). Let cool.


In a bowl, whisk the eggs and sugar together until smooth, then add the oil, honey and tea and mix until well combined.


Whisk the dry ingredients together in a separate bowl, then add them to the honey mixture and whisk until just combined. The batter will be very loose.


Pour the batter into your prepared loaf pan and bake for 40-50 minutes, or until the cake is dark golden brown and a skewer comes out clean from the center.


Let cool, then enjoy! The cake should be stored, covered, at room temperature.
Let our bakers do the hard work for you.
Order delivery instead!